While the pandemic continues, our Council Members, in accordance with provincial guidelines, has arranged for Sunday Service to be held virtually via Zoom
​
We look forward to worshipping online with you on Sundays at 10 am.
May you find the time shared with us to be a spiritual blessing which will carry you through adversity as you grow in courage, faith and love.
We pray you experience deep peace in the midst of chaos and may you find the joy God has promised you in your daily lives.
​
Please join us for worship on Sundays at 10 am by clicking the link below.
https://us02web.zoom.us/j/3021482528?pwd=U0l1ejVvZ0lPYTBrL3kxQTloL2NVQT09
​
Or dial-in by phone at:
Canada: 1 647 558 0588
New York: 1 646 876 9923
Meeting ID: 302 148 2528
​
Note: if joining not using link above use the Meeting ID number plus Passcode 000072.
​
Whoever you are,
wherever you are from,
however many times you have been to prison,
whatever you doubt or believe,
however many tattoos you do or don't have,
YOU ARE WELCOME HERE.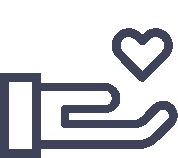 "Serve one another humbly
in love."
You are welcome to wear whatever you are comfortable in. We wear shorts, suits, yoga pants, dresses, jeans and sweat pants.
Fantastic. We love children at St. Andrew's. Your children and all their children noises are welcome to stay in the service. We also offer nursery care, as well as three separate classes to accommodate toddlers through teens. The children, tweens and teens start out in the service, are invited to the front for Children's Time with our minister and then leave for Sunday School.
How long are your services?
Our services are approximately an hour long. We have complimentary coffee, juice and pastries following the service.
What if I am not sure what I believe?
We gather around the stories of Jesus. Questions and doubts about how we live out these stories are not the opposite of faith, they are what keep our faith and our church authentic.
You are free to sit wherever you want. Wherever you choose to sit, you most likely will find yourself seated next to a friendly face.